VIETNAMESE Unicode
MM5 & WRF Forecasts
Four 72-hour forecasts are provided daily by the MM5 and WRF models for 00 UTC (7 AM VN time), 06 UTC (1 PM VN), 12 UTC (7 PM VN) and 18 UTC (1AM VN)
Two 15-day forecasts by MM5 begin at 00 UTC (7 am VN) and 12 UTC (7 pm VN)
Read Important Disclaimer Below Before Using Forecasts
IMPORTANT DISCLAIMER
The free MM5 and WRF forecasts are produced by AMI Environmental (AMI) on an experimental basis, and are provided for evaluation and demonstration purposes only.The user assumes the entire risk related to its use of these forecasts. AMI is providing these forecasts "as is," and AMI disclaims any and all warranties, whether expressed or implied, including (without limitation) any implied warranties of merchantability or fitness for a particular purpose. In no event will AMI be liable to you or to any third party for any direct, indirect, incidental, consequential, special or exemplary damages resulting from any use or misuse of these forecasts.
Please select a location for MM5 72-Hour Forecasts
| | | | | | |
| --- | --- | --- | --- | --- | --- |
| NORTH VN | CENTRAL VN | CENTRAL VN | SOUTH VN | CAMBODIA | LAOS |
| | | | | | |
| | | | | | |
| | | | | | |
| | | | | | |
| | | | | | |
| | | | | | |
| | | | | | |
| | | | | | |
| | | | | | |
| | | | | | |
| | | | | | |
| | | | | | |
| | | | | | |
| | | | | | |
| | | | | | |

Latest Storm Track Forecast: US Navy (JTWC), HongKong, Japan JMA, Philippines,

Taiwan, TSR-Pacific, TSR-Indian, Vietnam NCHMF

WRF Storm Precipitation (WRF1, WRF2)

Tsunami Warning: JMA (Japan), PTWC (USA)

Mekong River Flood Warning & Forecast (MRC)
In case of storms, free MM5 forecast alerts can be sent to you via e-mail. Please fill in your name and e-mail address
Name: <![if !vml]>
<![endif]>
Email: <![if !vml]>
<![endif]>
<![if !vml]>
<![endif]>
<![if !vml]>
<![endif]><![if !vml]>
<![endif]>
Please also join the VNBAOLUT Group for storm and flood news
Subscribe to vnbaolut

<![if !vml]><![endif]>

<![if !vml]><![endif]>

Powered by groups.yahoo.com
Latest Weather Information
Note: Vietnam Time = GMT/UTC + 7
Satellite Image over Southeast Asia

Recent Animated Satellite Images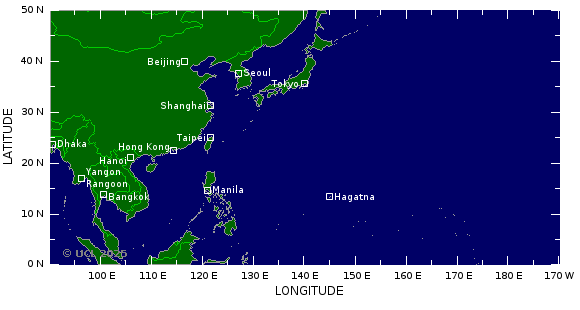 Real-time MM5 Weather Forecast
In recent years, several tropical storms have hit the coastal areas of Vietnam, especially in Central Vietnam. Torrential rains accompanying these storms have caused severe flooding that results in heavy losses of life and widespread damages. We have successfully applied the advanced, three-dimensional prognostic mesoscale model MM5 to simulate two of these storms: Elvis (1998) and Eve (1999) . Results of these simulations have shown that MM5 can be used to provide real-time forecast of future storms.
The mesoscale model MM5 has been developed by U.S. National Center of Atmospheric Research (NCAR) and is the most accurate and updated model available today. It is being used in mesoscale meteorological modeling, including real-time forecasting, by government agencies and well-known universities, both in the U.S. (e.g., National Weather Service and NASA) and abroad (e.g., Europe, Hong Kong and Taiwan). The MM5 model requires extensive computer resources and it normally runs on powerful and expensive computers such as a Cray supercomputer or high-end Unix workstation. Recently, we have ported the complete MM5 package to run on a Intel/AMD PC under the Linux operating system. The MM5 forecast covers most of Southeast Asia, from south China in the north to north Borneo in the south, and Thailand in the west to the Phillipines in the east. It uses two nested modeling domains : the outer grid (Domain D01) is comprised of 41x53 grid cells with a grid resolution of 72 km, and an inner domain (D02) focusing on Cambodia, Laos and Vietnam has a finer resolution of 24 km with 67x82 grid cells. Both modeling grids use 23 vertical levels.
Four MM5 forecasts, valid for 72 hours, are available daily and free of charge, for 00 UTC (07 A.M. Vietnam time), 06 UTC (1 P.M. Vietnam), 12 UTC (7 P.M. Vietnam) and 18 UTC (1 A.M. next day Vietnam). All forecasts are completed within 30 minutes of their forecast time, e.g. the 00 UTC forecast is available around 7:30 A.M. Vietnam time and the 12 UTC by 7:30 P.M. Vietnam time. Initial and boundary conditions have been derived from the NCEP AVN global analyses. The forecasts are updated with the latest weather information and reports from satellites, radars, weather stations, airports and ships in the region. The AVN global forecasts employ a coarse grid resolution of over 100 km. With a finer grid resolution (24 km in the inner domain), the MM5 forecasts are expected to be more accurate than other Internet forecasts, such as those from CNN and Yahoo, that rely on these coarse global forecasts. Our MM5 forecasts also provide predicted rainfall amount and wind speed, information that are important in storm emergency planning and make such task easier. We also perform an Evaluation of the MM5 Forecasts against actual weather information measured during tropical storms and other severe weather events. We hope that the MM5 forecasts will be useful in emergency planning, such as storm alert and evacuation decisions, so that potential losses of both life and property can be minimized.
Mr. Khanh Tien Tran
AMI Environmental
206 Black Eagle Ave, Henderson, NV 89002, USA
Telephone (702) 564-9186
E-mail: kttran@amiace.com

Last modified: October 2013